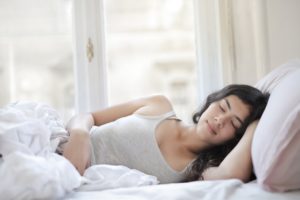 If you struggle to feel well-rested in the morning because you've been diagnosed with sleep apnea, the right treatment is crucial to restoring your quality of life. Whether you use a CPAP or an oral appliance, keeping your airways open while you're sleeping is essential. Besides sleep apnea therapy, did you know there are other factors that can influence your symptoms? Believe it or not, the foods you eat can inhibit your breathing pathways. Here are the best foods to eat to help you breathe better, so you can get the rest you need.
Foods That Aid Sleep Apnea
The foods you choose and the quantity you consume can increase your risk of pauses in breathing. You already know your dentist recommends avoiding sugary treats to preserve your dental health, but they also suggest limiting your consumption of sugars and starches to lessen the symptoms of sleep apnea. Instead, your dentist will encourage you to choose healthier alternatives, such as:
1. Fruits and Vegetables
Fruits and vegetables contain many vital nutrients and fibers while also being low on calories. If you need to satisfy your sweet tooth, fruits and vegetables are a great substitute for candy and cookies. You'll feel fuller for longer to prevent overeating. Since sleep apnea is often linked to obesity, adding fresh produce to your diet will help you avoid unwanted weight gain.
2. Low-Fat Dairy Products
Dairy products will prevent you from feeling hungry as often while also being great sources of vitamin D, calcium, and protein. Low-fat dairy products will help you maintain a healthy weight to decrease the risk of sleep apnea episodes, like milk, cheese, and yogurt.
3. Plant-Based Oils
Unsaturated fats from plant-based oils are better for you than those that are saturated, like butter or margarine. Adding oils from canola, olives, or safflowers will help you keep off unwanted weight.
4. Whole Grains
Whole grains are loaded with rich nutrients and fibers to curb hunger. Old-fashioned oats, wild rice, and pearled barley are great options to add to your plate.
Foods to Avoid with Sleep Apnea
Just as there are foods that can help you manage sleep apnea in Calimesa, there are also a few you should skip, such as:
Bananas: They cause an increase in mucus production that can make it difficult to breathe.
High-Fat Meats: Beef, pork, and fried meats should be consumed in moderation to decrease your fat intake.
Refined Carbs: The high sugar content can lead to obesity if consumed regularly.
Sleep Better Tonight
Besides making changes to your diet, follow your treatment plan provided by your dentist. With a few simple changes and an effective strategy, you can breathe easier and sleep soundly.
About Dr. Brian Zulawinski
Dr. Zulawinski earned his dental degree from the Indiana University School of Dentistry before continuing his education to focus on sleep dentistry. As a member of the American Academy of Dental Sleep Medicine, he offers effective solutions for sleep apnea. Contact our office today to see if you're a candidate for oral appliance therapy.