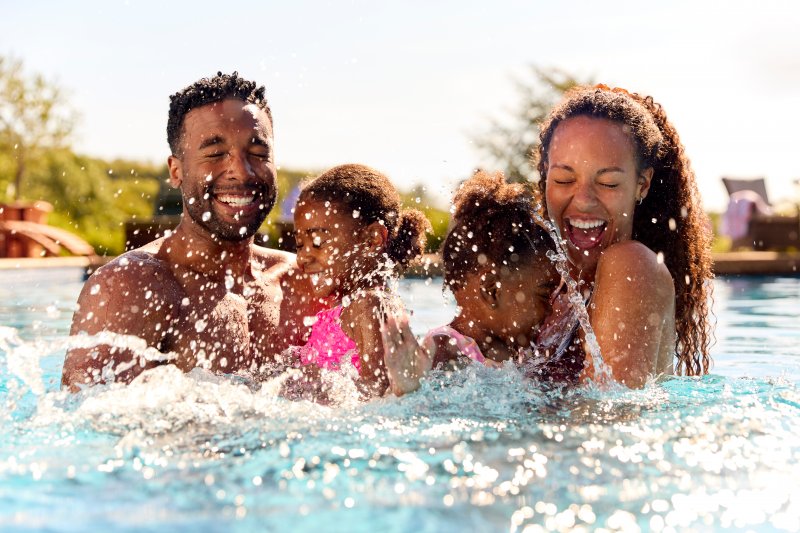 It's summertime once again, so odds are you plan to do some swimming. Taking a dip in the pool is certainly a great way to cool off! Still, you'll want to keep your smile safe when you do so. The chlorine from a swimming pool can affect your teeth negatively. Luckily, you can work around the risk. To that end, here's a summary of chlorine's use in swimming pools, how it can affect teeth, and how to protect your smile from it.
Context: Pools Contain Chlorine
You might not see the point of having chlorine in pool water. However, the chemical actually plays an essential role.
You see, chlorine kills various disease-causing germs. Before people began chlorinating water, thousands were subject to various water-borne illnesses. Even today, non-chlorinated H2O can cause diarrhea, skin rashes, coughing, and more.
Given this fact, chlorine in pools is the first defense against hazardous germs. It ensures your time swimming won't lead to severe disease.
How Does Chlorine Affect Your Teeth?
Unfortunately, chlorine's effects aren't all positive. Some of them can do a serious number on your smile.
Put simply, chlorinated pools with low pH levels erode teeth. The water is acidic enough to wear down enamel. As such, extended time swimming can result in severe tooth decay. This particular kind of tooth erosion is called swimmer's calculus, which can stain teeth yellow.
Ideally, your pool won't have a low pH balance in the first place. The CDC recommends the levels of treated water be between 7.2 and 7.8.
How to Protect Teeth from Pool Water
In truth, it's possible to make pool water safer for your teeth. Consider the tips below:
When swimming in a public pool, note the linings, railings, and ladders. Overly-acidic water will eat away at such things. If they have visible signs of erosion, the water will erode your teeth.
Buy pool pH strips at your local recreational supply store. Used properly, these items let you test pool water before your dip. Therefore, ensure the strips indicate a pH between 7.2 and 7.8.
Rather than visit a public pool, try to maintain your own backyard pool. This approach would save you money and let you control the water's pH balance. In particular, you could assess the latter pool's acidity once a week and even have a specialist examine it.
Ultimately, a swimming pool can affect your teeth in harmful ways. With that said, make sure it's not acidic – you might hurt your smile otherwise.
About the Author
Dr. Scott Parker is a dentist in Calimesa, CA, having earned his DDS from Loma Linda University. He's also a member in good standing of the American Dental Association, the California Dental Association, and the Tri-County Dental Society. His dental specialties include preventive, cosmetic, and restorative dentistry, as well as emergency oral procedures. Dr. Parker currently practices at his self-titled clinic and can be reached at his website or by phone at (909)-795-6019.