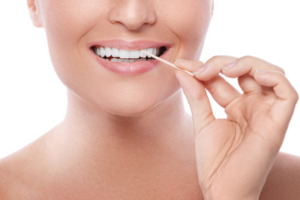 It's virtually impossible to go through life without experiencing something stuck between your teeth—and for many people, this issue pops up pretty frequently! But upon experiencing these situations, one option that many people turn toward is using a toothpick to dislodge the debris. But despite their name, toothpicks aren't ideal for this task, and believe it or not, they can pose a threat to your oral health! Keep reading to learn more from your dentist about some of the potential dangers of using toothpicks, along with some safer alternatives to consider.
How Toothpicks Can Harm Your Smile
According to the Academy of General Dentistry, one of the most renowned professional dental organizations around, it's okay to use a toothpick if you don't have any other available options—however, you should still use extreme care, and you certainly shouldn't rely on them for regular use. Here are a few ways how toothpicks can potentially be hazardous for your teeth and gums:
They're fragile and break easily, and the tiny fragments can become lodged in the gum tissue which causes damage and leads to infection.
The end of a toothpick can function as a vehicle for bacteria and germs to enter the mouth.
Toothpicks can also damage tooth enamel, as well as dental restorations like crowns, fillings, or even veneers.
Heavy toothpick use can also shift your gum down and expose more of your tooth's sensitive root.
Believe it or not, toothpicks can also create additional space between teeth that gives debris room to collect.
Safe Alternatives to Toothpicks
You shouldn't rely on toothpicks for clearing debris from your smile—there are all kinds of safe, dentist-approved alternatives. The next time you have something stuck between your teeth, ditch the toothpick and consider the following instead:
Dental floss – Dentists agree that the ideal way to remove debris from your teeth is with dental floss. You should be flossing your teeth on a daily basis anyway, but turning toward floss when you notice food stuck in your teeth is arguably the safest and most effective solution. There are both waxed and non-waxed varieties to suit individual preferences.
Floss picks – These can be easier to handle and manipulate for some patients; however, they can prove just as effective as traditional dental floss.
Oral irrigator – Waterpiks and other types of oral irrigators rely on a gentle, pressurized stream of water to clear food debris from between teeth. Although they're more expensive than manual flossing options, they're perfectly safe and undeniably effective.
Water – Even swishing water around your mouth can prove useful for dislodging anything that might be stuck. Saltwater rinses can also be useful if the intruding debris is causing inflammation.
About the Author
Dr. Scott Parker received his dental doctorate from the Loma Linda University School of Dentistry and has proudly served patients and families in the Calimesa community for several years. His practice is thrilled to offer a wide range of preventive, cosmetic, and restorative services that are certain to help you achieve a beautiful smile coupled with optimal oral health. If you have any questions about the article or would like to arrange a visit for you or a loved one, feel free to contact Dr. Parker through his practice's website or over the phone for assistance: (909) 500-4135.