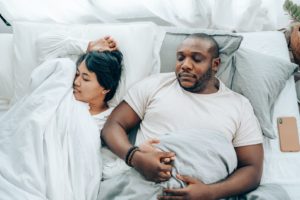 If you have obstructive sleep apnea (OSA), you know a good night's rest isn't always easy to achieve, especially during the summer. Daily fatigue can ruin your plans quickly, but you don't have to toss and turn all night. Here are 7 tips from your sleep dentist to start the day feeling your best.
1. Lower the Temperature
It can be impossible to doze off if you are drenched in sweat. Researchers have found a cooler environment is best for sleeping. Close your curtains before any afternoon sunlight reaches your room to keep it cooler. Lower your AC a few degrees before heading to bed or use fans to circulate the air.
2. Stick to a Schedule
Life tends to slow down in the summer, which can mean late nights or sleeping in. Although it's refreshing to ignore the alarm clock, an inconsistent schedule can make it more difficult to sleep at night. It is best to stick to a consistent routine, even if you'll be traveling for the summer. Get up and go to bed at the same time every day to reset your sleep patterns.
3. Turn off Electronics
If you have a habit of watching TV before bed or surfing social media on your phone while waiting to fall asleep, your screen time can be keeping you awake at night. Turn off any electronics at least 30 to 60 minutes before calling it a night.
4. Avoid Napping
If you're not getting enough sleep, you may need a quick catnap halfway through the day. Unfortunately, this won't make it any easier to fall asleep quickly, so it's better to avoid taking one. After just a few days, you won't even need to nap.
5. Spend Time Outside
The warmer temperatures and sunny weather are perfect for spending time outdoors. A short walk during the day allows you to soak up vitamin D while increasing your physical activity. Regular exercise can promote better sleep quality.
6. Limit Your Caffeine
If you're feeling a little sluggish, avoid reaching for another cup of coffee, especially in the afternoon and evening. Caffeine is a stimulant, which will keep you awake for longer. Instead, swap for a glass of water to ensure you're well hydrated.
7. Commit to Your Oral Appliance
New habits aren't a substitute for sleep apnea treatment. While you make a few changes throughout your day, commit to wearing your oral appliance nightly. It will keep your airway open to prevent disruptions in breathing that can affect your sleep.
If changes at home aren't enough, contact your sleep dentist. They'll provide the solutions you need to sleep peacefully.
About Dr. Scott Parker
Dr. Parker graduated from Loma Linda University in 2008 and continued his training overseas. He regularly furthers his education to provide specialty services, like sleep apnea therapy. Dr. Parker strives to build trusted relationships with his patients to improve their overall wellness. If you need an oral appliance, contact our office today to request your consultation.