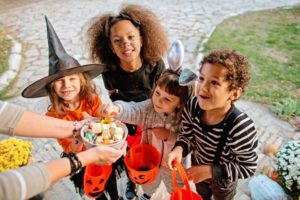 Your child is likely getting prepared to set the North American candy consumption record this Halloween. You, and probably their dentist, would prefer that the old record remain intact.
As parents are well aware, it is up to them to save their little candy consumers from themselves. Here are some Halloween oral health tips to consider as the big night draws near.
Steer Them Toward Certain Candy
If possible, try to keep them away from hard candy, such as lollipops, that can cause broken teeth. Sticky candy like caramel and taffy will stay in their mouth a long time. Harmful bacteria feed off the lingering sugar, and then the bacteria create acids that erode tooth enamel. If the candy is sugar-free, this is not as crucial. If your child is open to eating dark chocolate, it would be an excellent alternative to the milk chocolate they get while trick-or-treating.
Timing is Key
In the days following Halloween, perhaps set a specific time they can have some candy instead of just having a candy bowl out that they can visit throughout the day. In fact, eating candy with meals or shortly after mealtime is best since saliva production is increased during that time, which washes away food particles and neutralizes acid produced by bacteria.
Have a Plan
Instead of letting your child keep all the candy they get, maybe have them pick their favorites. Your dentist might have a "candy takeback program." Or you could have small prizes you will give your child in exchange for candy. Maybe let them pick a movie for the family to go see if they will hand over some candy.
Drink Lots of Water
Drinking fluoridated water can help prevent tooth decay. Also, if your child is drinking water of any variety while eating candy, that is better for their teeth. Rinsing one's mouth while drinking water will help remove some of the plaque and sugary food particles off teeth if there is not an opportunity for brushing at the time.
Maintain a Healthy Diet
Certainly, this is always a good idea for your child, but especially when their candy consumption is higher than it might normally be. Keeping them away from soda, sports drinks, and flavored water would be beneficial during the post-Halloween days.
Chew Sugarless Gum
Very beneficial after eating meals, chewing sugarless gum after candy consumption would help to increase saliva flow.
Maintain Oral Hygiene
Here's another one that is important all the time, but especially when candy eating is up – it's important for your child to brush their teeth twice each day, floss daily, and rinse with mouthwash.
Schedule a November Checkup
In the weeks after your child may have been eating the most candy they'll have all year, a visit to the dentist for a cleaning before Thanksgiving could be a great call for their teeth.
It's okay for your child to have some candy on Halloween and in the days that follow. Kids will be kids. But some planning on your part that they perhaps are not aware of can really make a difference for their oral health.
About the Author
Dr. Scott Parker has three children of his own, so he understands the importance of a Halloween candy game plan. He is a faculty club member of Spear Education, recognizing how important it is to constantly build upon his dental knowledge as technology advances. Dr. Parker is always ready should your child require an emergency dentist due to hard candy on Halloween or some other reason. Even if they just need a checkup, you can make an appointment on his website or call (909) 795-6019.