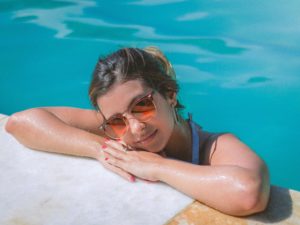 Summer is finally here, which means plenty of time soaking up the sun and cooling off in the pool. The last thing you want to deal with is an unplanned trip to your dentist. Although there's never a good time for a dental emergency, a sudden oral health issue can quickly halt your summer plans. While you can't completely prevent one from occurring, there are several steps you can take to protect your smile. Here are 4 summer activities you'll want to skip to avoid time in the dental chair.
1. Diving into a Pool
Dentists see an increase in oral health injuries caused by swimming pools every summer. Slipping on a wet deck or bumping your mouth on the side of the pool can quickly lead to a chipped, fractured, or knocked-out tooth. You don't have to stay away from pools to keep your smile safe. Instead, practice pool safety rules, like not jumping into shallow water and walking on wet surfaces.
2. Playing Sports without an Athletic Mouthguard
The weather is perfect for a friendly game of football or a mountain bike ride. No matter the outdoor sporting activity you enjoy, don't leave your smile unprotected. Besides swimming pools, sports are also a common cause of dental emergencies. You can significantly lessen your risk by wearing an athletic mouthguard while playing sports. It adds a layer of protection for your teeth, gums, and jaw to lessen the severity of an injury if there's trauma to the mouth.
3. Skipping Your Semi-Annual Appointment
The last thing you want to do is lose a day of summer, but you don't want to skip your semi-annual appointment with your dentist. Besides cleaning your teeth to ensure your smile looks great, they'll also perform a thorough examination. They'll look for any dental concerns that might turn into a big problem down the road, like a cavity. A simple cleaning and checkup will reduce the likeliness of an oral health problem putting a kink in your summer festivities.
4. Sweet Treats and Cool Drinks
Everyone looks forward to sweet treats and ice-cold drinks on a hot day, like ice cream and lemonade. Although they are refreshing, many summer favorites contain sugar. Frequent sugar consumption can erode your enamel because of cavity-causing bacteria. It's best to snack smart and choose water whenever possible.
Enjoy a Stunning Summer Smile
You don't need to worry about a dental emergency interrupting family barbeques or vacations. With a few precautions, you can ensure your smile stays healthy and beautiful until your next cleaning and checkup. You can spend time focusing on more important matters, like sitting around the campfire with your loved ones.
About Dr. Scott Parker
Dr. Parker earned his dental degree at Loma Linda University before continuing his training at Spear Education. He is a member of various dental organizations, including the American Dental Association. Dr. Parker provides comprehensive dental services through personalized treatment plans. If you have a dental emergency, don't wait. Contact our office today for an appointment.