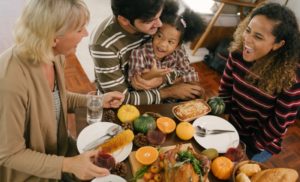 Thanksgiving is almost here, and it's the perfect time to spend time with family members you rarely see and enjoy delicious foods you rarely eat. However, you don't want your holiday to be ruined by an excruciating toothache that requires you to make an emergency appointment with your dentist. To keep your smile in good shape this Thanksgiving, keep an eye out for these four traditional side dishes that are bad for your oral health.
Cranberry Sauce
Despite its sharp yet delectable flavor, this Thanksgiving staple is packed with sugar. It doesn't even contain any protein or fiber to balance all of this sugar out. All of that sugar provides fuel for cavity-causing bacteria in your mouth.
As a mouth-healthy alternative, switch to a recipe that calls for fresh cranberries. That way you can control the amount of sugar your family consumes at the Thanksgiving meal.
Stuffing
Most stuffing recipes center around bread. Starches like bread give harmful oral bacteria the energy they need to destroy your tooth enamel. Plus, starches can remain on your teeth for quite some time, giving bacteria ample time to wreak havoc.
Try using beans as a stuffing base instead of bread. Beans are chock full of fiber and protein, keeping you full for much longer than bread does.
Fruitcake
With "fruit" right there in the name, you would think that fruitcake would be healthy, right? Unfortunately, fruitcake contains dried fruit, which can seriously damage your teeth. Not only is dried fruit much more sugary than fresh fruit, but it's sticky enough to linger on the teeth and cause harm long after the meal is done.
To get your fruit fix this holiday season, you can make a fresh fruit crumble. It has significantly less sugar and isn't nearly as sticky.
Sweet Potato Casserole
Sweet potatoes by themselves are actually great for your oral health, as they contain valuable vitamins that benefit your teeth and gums. The problem is that many people include a layer of melted marshmallows on top of their sweet potato casseroles. Marshmallows are notoriously sugary and sticky – two qualities that can easily lead to tooth decay. Try making your sweet potato casserole more savory than sweet by not adding marshmallows.
The good news is that many of these foods are rarely eaten outside of holiday dinners. Still, try not to eat too much of them if you can. If you can't brush and floss after eating, then at least swirl some water around in your mouth. It will rinse leftover food debris off of your teeth, minimizing the risk that bacteria will feast on them and create cavities. This can keep your smile in good shape for all of those family photos!
About the Author
Dr. Scott Parker is a dentist in Calimesa, CA who earned his Doctor of Dental Surgery in 2008 from Loma Linda University. As a member of the American Dental Association, the California Dental Association, and the Tri-County Dental Society, he understands the importance of eating the right foods to keep your smile healthy. For more tips on sticking to a mouth-healthy diet this holiday season, visit Dr. Parker's website or call 909-795-6019.