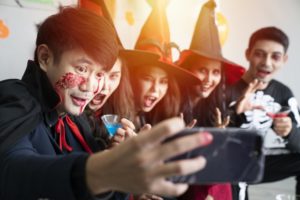 Halloween is right around the corner, but this year, you're probably going to celebrate differently. Since you won't get to hand out candy to all of the little ones in your neighborhood, you'll have plenty of time to carve out a little "you" time to do everything you want. To get a smile worth showing off after you take off your costume and slip into your regular get-up, use that extra time that you'd normally spend on planning the perfect Halloween trick-or-treating night on creating a beautiful grin! Read on to learn about a few not-so-spooky ways your cosmetic dentist in Yucaipa can transform your smile.   
Porcelain Veneers That Could Fix a Haunted Mansion
If your smile suffers from several cosmetic imperfections, like damaged teeth, chipped teeth, and even slight misalignment, then you're probably hesitant to get everything fixed because it would mean having to visit your dentist for several different treatments. Just like a Halloween haunted mansion, your smile needs some work. Fortunately, porcelain veneers are up for the task.
Each veneer is custom-tailored to the individual teeth that you'd like to have repaired. They're made from durable, stain-resistant dental porcelain that can last for over 25 years with the proper maintenance. Once placed over the visible surface of your prepared teeth, they'll reveal a smile that's bright, even, complete, and undamaged!
Professional Teeth Whitening to Dust the Cobwebs from Your Smile
Discolored teeth happen due to a variety of reasons, including poor oral hygiene, natural aging, or even because of certain medications. Since your smile is the first trait that many people notice about you, it's important that you feel comfortable letting it show. To boost your confidence and keep you from having to spend countless dollars on store-bought whitening products that don't work, invest in professional teeth whitening this October. This treatment uses highly-concentrated, safe, and clinically proven ingredients to really give you something worth showing off.
Metal-Free Restorations So No Spooky Reflections Appear When You Laugh
It's safe to say that metal crowns and fillings are outdated and highlight damaged teeth when you laugh and smile. They're reflective and stick out like a sore thumb next to all of your home-grown pearly whites, but that's not the only downside they have. They're also known to cause dental discoloration, sensitivity, and even gum discoloration, due to the fact that they're made from noble metals like nickel.
Fortunately, you can get everyone to stop focusing on your damaged tooth by getting a new crown or filling that's custom color-matched to your enamel. The restorations can be crafted from ceramic or porcelain to provide you with lasting protection that perfectly blends with your smile.
This Halloween, once you take off your scary costume and prosthetic teeth, feel good about your smile by sprucing it up with cosmetic dentistry. There's no better time to do it than now, right before the holiday season starts!
About the Author
Dr. Scott Parker's favorite part of being a dentist is building lasting, meaningful relationships with each of his patients to better understand the needs and desires that they have for their smiles. He is a faculty club member of Spear Education and an active member of several professional organizations, such as the California Dental Association. He stays up-to-date with all of the latest cosmetic techniques and advanced technology to ensure beautiful smile transformations. For questions or to schedule a consultation for treatment, visit his website or call 909-795-6019.