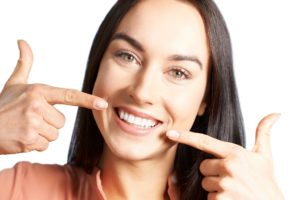 If you struggle with confidence issues because of aesthetic concerns involving your teeth, you don't need to live with a less than perfect smile. Your cosmetic dentist can transform your teeth and your self-esteem using a personalized plan. Among the most popular treatments are direct bonding and porcelain veneers. Although both produce amazing results, which is the right option for you? Here's what you need to know to make the best choice to achieve the smile of your dreams.
What is Direct Bonding?
Direct bonding is a noninvasive procedure that uses a composite resin material to improve the appearance of a tooth. It's customized to match your enamel, so it will blend in seamlessly with your natural teeth when used to correct:
Dark tooth discoloration or stains.
Chipped, cracked, or misshapen teeth.
Tooth decay.
Exposed tooth root.
Small gaps between teeth.
Direct bonding can be used to current minor aesthetic concerns after just 1 appointment depending on the number of teeth you're having treated. Results can last for a decade or longer with the right care.
Benefits of Direct Bonding
When compared to other cosmetic treatments, direct bonding offers several advantages, including:
Natural-looking results.
Noninvasive.
Effective for minor aesthetic issues.
Doesn't permanently alter the tooth structure.
Quick results.
Cost-effective.
Durable.
What are Porcelain Veneers?
A veneer is a thin shell bonded to the front surface of a tooth to cover several cosmetic concerns using just one treatment. They are made of porcelain to be thinner, so less tooth structure is removed during the bonding process. This also allows you to enjoy natural-looking results in as few as 2 appointments. Porcelain veneers can be used to correct multiple issues at once, such as:
Dark tooth discoloration and stains.
Chips, cracks, or abnormally shaped teeth.
Shorter than average teeth.
Small gaps between teeth.
Cover minor alignment issues.
Although they are effective, you will need to permanently remove a small amount of enamel; however, veneers can last for a decade or longer with the right aftercare.
Benefits of Porcelain Veneers
Porcelain veneers are among one of the most common elective treatments because they can create a flawless smile in as few as 2 appointments. They offer several benefits, including:
Natural-looking results.
Minimally invasive.
Correct several issues using 1 treatment.
Quick results.
Durable.
Can last for an average of 10 years.
Which is the Right Option for Me?
If you're ready to invest in a beautiful smile, your first step is to schedule a consultation with your cosmetic dentist. They will evaluate your aesthetic concerns and discuss the results you want to achieve to create a customized treatment plan. You'll enjoy the confident, beautiful smile you deserve using the latest innovations in cosmetic dentistry.
About Dr. Scott Parker
Dr. Scott Parker strives to develop personalized relationships with his patients to create healthy, beautiful smiles that last. He regularly continues his training to provide modern services catering to each patient's needs. As an active member of various organizations, including the American Dental Association, your smile is in good hands. If you're interested in cosmetic dentistry, contact our office today to schedule your consultation.