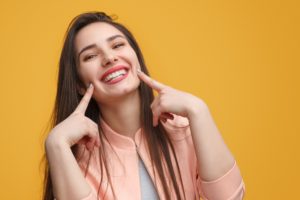 Your teeth are essential for everyday tasks, like biting, chewing, and even speaking, but did you know they serve another purpose as well? Research shows the appearance of your teeth directly impacts your self-esteem. If you're embarrassed by discoloration, chips, or other aesthetic concerns, you're not alone. In fact, as much as 39% of people hide their teeth because they don't like how they look. Although you know your cosmetic dentist can create the smile of your dreams, is it worth the cost? Believe it or not, an attractive smile is an investment in yourself and your quality of life, and here's why.
Benefits of an Attractive Smile
Your smile says a lot about you and how other people form their opinions upon meeting you for the first time. While you've heard, "you shouldn't judge a book by its cover," many people do. If your teeth are less than perfect, people may view you negatively. Not to mention, you might view yourself in a bad light. Whether from genetics, poor oral hygiene, or trauma, you can transform your teeth and your quality of life through the benefits that come along with an attractive smile, including:
Improved Confidence
It's easy to feel insecure by aesthetic issues, like gaps, chips, or discoloration. It's hard not to let it affect your mood. As much as 75% of people say their bad teeth have negatively impacted their demeanor, attitude, and self-confidence. Correcting your cosmetic concerns can give your confidence a boost and give you a positive outlook on life because you'll feel better about yourself in general.
Better Social Engagements
Research shows 94% of people say the first thing they notice about someone is their smile. When someone looks at your mouth, what will they see? If you're concerned about what people might think, it's easy to isolate yourself from certain social settings. You might even hold yourself back when around other people. One study found 39% of people hide their teeth when smiling or avoid it altogether because they are worried about how they look. You can lift the weight of your insecurities and have one of the brightest smiles in the room using cosmetic dentistry.
Improved Job Prospects
According to a recent survey, an attractive person can earn as much as 4% more than someone who's considered average in looks. If your smile isn't perfect, it could limit your career opportunities. You can invest in a lucrative future by improving the appearance of your teeth. Your cosmetic dentist can achieve the radiant, sophisticate smile you need to succeed.
Invest in Yourself with Cosmetic Dentistry
Give yourself the gift of confidence and invest in yourself with your cosmetic dentist. They'll create the beautiful smile you deserve to look and feel your best.
About Dr. Scott Parker
Dr. Scott Parker believes every smile tells a story. He strives to help his patients ensure their smile says the right thing. Besides general dentistry, he also offers a variety of cosmetic services. Dr. Parker is a member of various dental organizations, including the American Dental Association and the California Dental Association, so you can rest assured your smile is in good hands. If you're ready to improve your self-esteem, contact our office today for a consultation.