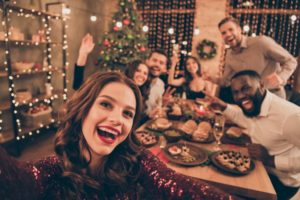 When you're at a holiday party, your dental health is probably the last thing on your mind. Believe it or not, however, holiday parties provide ample opportunity for bacteria in your mouth to wreak havoc on your teeth and gums, because of all the sweet treats available. Luckily, your dentist is here with three tips to keep your teeth and gums healthy this holiday season.
1. Go Easy on the Alcohol
Among the numerous health problems that alcohol can cause is dry mouth, a condition where your mouth doesn't have an adequate supply of saliva. Although it might sound gross, you actually want your mouth to produce as much saliva as possible. Saliva helps rinse your mouth out of excess food particles that, if not cleaned out, can attract bacteria that cause problems like gum disease and tooth decay. It also neutralizes the acids in the food and drink you consume and even strengthens your teeth. If you're going to drink alcohol at a holiday party, be sure to drink plenty of water as well. A good rule of thumb is one glass of water for every alcoholic drink you consume.
2. Cut Back on Snacking
Most holiday parties lay out trays with snacks like chips or cookies, but constantly snacking can be detrimental to your dental health. This is because when it comes to developing cavities, the amount of sugar you consume is not quite as important as how long that sugar is allowed to remain on your teeth. If you're snacking throughout the evening, you're exposing your teeth to a near-constant supply of sugary or starchy foods. This gives the bacteria in your mouth plenty of food to snack on. When they do this, they create acids that wear away at your tooth enamel and cause cavities. It's fine to snack, but don't do so frequently throughout the night. Try and consume all of your snacks in one sitting if possible.
3. Don't Stay Out Too Late
Although it might be cool to stay out partying well into the next morning, doing so can actually impact your dental health. How so? Simple: not getting enough sleep suppresses your immune system's ability to fight off infections. This includes dental infections like gum disease. Get the partying out of your system early in the night so that you can go home and get plenty of rest to strengthen your immune system.
With these three holiday tooth tips in mind, your teeth and gums should stay in excellent shape this holiday season. Keep these tips in mind the next time you're at a holiday party. Your teeth, and your dentist, will thank you!
About the Author
Dr. Scott Parker graduated from Loma Linda University more than a decade ago. He is a member of the American Dental Association, the California Dental Association, and the Tri-County Dental Society, as well as a faculty club member of Spear Education. He has his own private practice in Calimesa, CA, where he looks forward to hearing and contributing to the story of your smile. For more holiday tooth tips, you can contact Dr. Parker's office by clicking here.