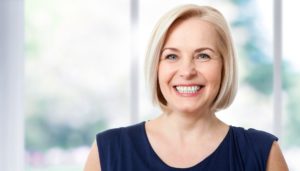 Although you never expected it to happen to you, you're among the 35 million Americans who have lost all their natural teeth in one or both arches. Traditionally, dentures have been the go-to solution to treat tooth loss. Despite their reputation for looking and feel fake, they are now more realistic than ever. As an alternative to a traditional denture, you can enjoy the next best thing to what nature gave you with dental implants. Both options are effective, but which is right for you? Your dentist will help you decide if a dental implant or denture is the best choice to complete your smile.
What is a denture?
A full denture replaces an entire arch of missing teeth using a custom-made prosthesis. Your dentist takes an impression of your mouth to design an acrylic, gum-colored base. Your new teeth are placed into the arch, which meets your exact size, shape, and color needs to look natural. The arch is held to your gum tissue using suction or an adhesive so you can chew, speak, and smile with ease.
Benefits of a Denture
Dentures are a tried and true method to treat significant tooth loss. They are an affordable and convenient option that can last for several years with the right care. New advancements allow them to offer several advantages, such as:
Nonsurgical solution.
Durable to withstand regular chewing.
Supports facial tissues.
Looks natural.
Lasts for 5 to 7 years before needing to be replaced.
What is a Dental Implant?
As an alternative to a traditional denture, you can choose dental implants to stabilize your new smile. A denture only replaces the crowns of your teeth; whereas, a dental implant mimics the entire structure of a tooth.
Titanium implant posts are surgically placed into your jaw to serve as roots. Your bone fuses to the posts to provide a secure foundation for your new teeth. Your custom-made denture is attached to the posts using special connector pieces called abutments. You will enjoy your new smile for a lifetime with the right aftercare.
Benefits of Dental Implants
An implant-supported denture offers exceptional benefits compared to the traditional solution. You'll enjoy a close replica of your natural teeth, as well as:
Over a 95% success rate.
Regain as much as 70% of your biting force.
Looks and feels natural.
Preserves your bone density.
Supports your facial tissues.
Eliminates slipping and irritation.
Can last for several decades.
Which is the Right Option for Me?
Your dentist performs a comprehensive consultation to evaluate your oral and general health. They will also take the time to discuss your preferences and your lifestyle habits to recommend the best solution for your specific needs.
Don't wait to invest in your quality of life. Rebuild a healthy, beautiful, and functional smile today!
About Dr. Scott Parker
Dr. Scott Parker has completed advanced training in many areas of specialty care, including dental prosthetics. Besides traditional treatments, Dr. Parker is also qualified to place dental implants. If you've experienced tooth loss, he'll perform the consultation you need to restore your smile. Contact our office today to schedule an appointment.