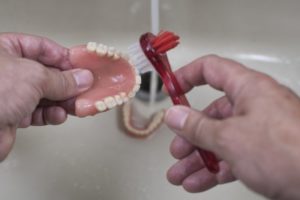 After suffering from tooth loss for years, you're ready to restore your smile and quality of life by getting dentures in Calimesa. Over the first couple of weeks, you'll be adjusting to how they feel, how to clean them, how to complete basic daily functions like eating and speaking with them. While it may seem like a massive challenge at first, soon, your dentures will seamlessly fit in with your everyday life. Here's what you can expect from the adjustment period.
Side Effects of When You First Wear Them
When you first get your dentures in Calimesa, you can expect to notice some side effects that are completely normal. It's important to remember to give them a chance, because before you know it, they'll feel like a natural addition to your mouth.
When you put them in for the first time, you may notice how full your lips and cheeks feel. You'll also notice saliva buildup, trouble speaking, and minimized ability to taste food. These are just a few of the small, inconvenient symptoms you can expect to experience. The best way to combat them quickly is to follow these tips:
Practice speaking by reading out loud or in front of the mirror. This will help you learn the different ways your mouth moves with your dentures in.
Take the dentures out for short periods of time whenever your gums feel tired or sore.
For excessive salivation, try swallowing more or sucking on mints or hard candy.
Chewing With Your Dentures
Chewing with your new dentures can seem like a massive obstacle when you're first getting used to the way they feel. The best way to adjust is to start by eating soft foods until you're comfortable chewing them. Be sure to chew the food on both sides of your mouth with your back teeth. Over time, you'll be able to introduce more difficult foods to chew like steak. However, some snacks like gum, taffy, and caramels are best to steer clear of altogether.
Cleaning Your Dentures
Cleaning your dentures is very important because it reduces the amount of plaque and harmful oral bacteria that develop in your mouth. To avoid conditions like gum disease, be sure to:
Rinse your dentures with water after each time you eat.
Soak your dentures overnight in a denture cleaner to sanitize them and remove all food particles that have accumulated throughout the day.
Brush and rinse your dentures before putting them back in your mouth after soaking them.
Avoid using toothpaste on your dentures because it's abrasive and can scratch them.
Be sure not to use hot water on your dentures because it may cause them to warp.
Caring for your dentures can increase their lifespan and keep them looking clean and healthy. That way, you feel totally confident about showing off your new smile.
You can breeze through your denture adjustment period when you follow these tips. Plus, now that you know what to expect, you won't have to worry whether what you're going through is normal or not. Eventually your dentures will be a normal and natural-feeling addition to your mouth and improve your everyday life.
About the Author
Dr. Scott Parker enjoys building long-lasting relationships with his patients and wants each of them to feel comfortable and well cared for. He is able to keep up to date with the latest advancements in dentistry by being an active member of several professional organizations including the American Dental Association and California Dental Association. That's why he's able to offer countless restorative procedures to restore missing teeth, such as dentures and dental implants. For questions or to schedule a consultation, visit his website or call 909-795-6019.