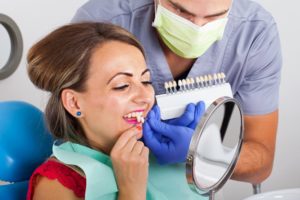 Many of us put off going to the dentist. We don't want to take time out of our busy lives to go get potentially painful treatment. However, seeing your dentist at least twice a year for a checkup is very important. Your dentist near Yucaipa can diagnose problems in your teeth before they get worse and require more extensive, painful, and costly treatment. Keep reading to learn 5 reasons why you should visit your dentist this summer.
1. Look Your Best for Summer Events
Summer is the time for weddings, barbecues, vacations, and more. Pictures will be taken at these events, and the spotlight will be on your smile. That's why it's a perfect time to go to the dentist and get a professional teeth whitening. That way you won't be embarrassed to smile in front of the camera. You will want to show off your new smile to everyone you can!
2. Take Advantage of Your Insurance Benefits
For most of us, our insurance benefits reset at the end of the year. Summer is a great time to make sure you reach your deductible so you can maximize your benefits as soon as possible. Take advantages of your benefits now so you won't have to pay as much out of pocket as the holiday season approaches.
3. If You're a Student, You Will Have More Time to Adjust to Dental Work
Summer is an especially great time for kids or college students to visit their dentist. If your child needs braces, this is the perfect season to get them. Your son or daughter will have more time to adjust to their new orthodontic work without also dealing with the stresses of school. Schedule your appointment today to get your kid started on their journey to a straighter smile.
4. Get Your Wisdom Teeth Removed Without Missing School
If you're a high school or college student, you'll probably want to get your wisdom teeth taken out soon, before they start causing problems. Now that you're out of school, you'll have time to recover from the surgery without having to worry about missing classes or falling behind on your homework.
5. Fit Appointments into Your Schedule More Easily
It's much easier to fit a dental checkup into your child's schedule when you don't have to worry about how much class they will miss. Book their appointment before the before-school rush in late August and September. That way you'll have the freedom to plan out an appointment that works for you and your child.
Going to dentist any time of the year is great for your oral health, but summer is the best time of year to get your biannual appointment out of the way and seek any treatment you or your child may need. Call your dentist and schedule you next checkup today!
About the Author
Dr. Scott Parker is a Yucaipa native who completed his Doctor of Dental Surgery degree at Loma Linda University. He is a member of both the American and California Dental Associations as well as the Tri-County Dental Society. To learn more about why summer is a wonderful time to seek dental treatment, click here or call (909)-795-6019.